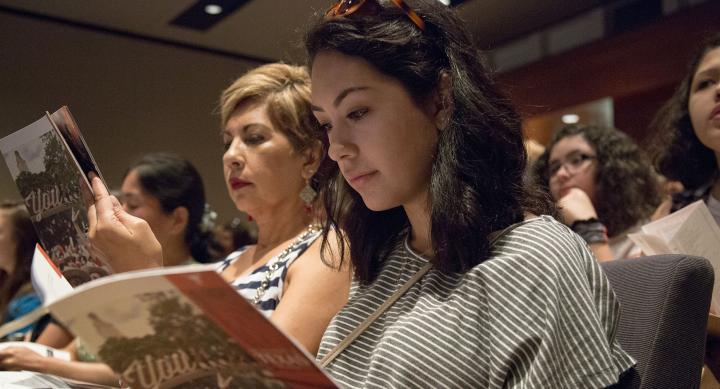 An education at The University of Texas at Austin is a family experience, and it all starts with the admission process.
Families can support their prospective Longhorns in many ways throughout the application process. Encourage your child to reflect on their interests and goals, explore educational possibilities with an open mind, and make the most of the transition between high school and college. Whether you've helped other children apply to college or this will be your first time, the university's Office of Admissions provides the information and resources to support you and your student throughout the process.
Interested in learning more about the opportunities UT Austin offers? Start with our list of degree programs and explore the honors programs open to freshman applicants. Our rankings confirm our status as one of the biggest and best research universities in the world, and as one of the best college values in Texas and the U.S.  
Most students will complete three separate (but related) application processes: one for admission, one for on-campus housing, and one for financial aid and scholarships—in that order. Each application opens well in advance of its deadline, and we recommend that students become familiar with requirements and start applications early.  
All prospective students and families are encouraged to visit campus. By organizing your activities through the Office of Admissions, you can see campus on a tour guided by a current student, sit in on an information session led by an admissions counselor, and attend special interest sessions on an individual college or school, a special academic program or on-campus housing. 
The Office of Admissions is here to help you and your family through every step of the admission process. Visit the Texas Admissions website frequently and don't hesitate to reach out to your child's assigned admission counselor or local admissions center.
Below you'll find more information for parents/families of prospective students.