From the day your children arrived in your life, your number one responsibility has been to keep them safe. Now that your student is learning on a diverse campus and living in a large metropolitan city, personal safety has become their responsibility.
Under the direction of President Hartzell, campus leadership continues to make safety a top priority as they strive to make the University of Texas at Austin the best possible place for learning, living and working. The student body leadership has worked hand in hand with the university administration to create a culture of safety awareness that helps students understand the crucial role they play in their own safety, as well as that of others.
Students are encouraged to follow three key behaviors ensure their personal safety:
Don't walk alone, especially at night. If walking with friends is not achievable, the university offers two safe walk or travel options:  SURE Walk and UT Night Rides.
Be aware of your surroundings. 
Call 911 anytime you feel unsafe. UTPD also offers a free safety app called LiveSafe at UT Austin allowing users to instantly text 911 dispatch and submit photos and videos if calling is not an option.
These messages make students aware of the resources available to help them, and creates a foundation of safe practices to build upon. Our hope is that all Longhorns utilize these outside-the-classroom lessons of personal safety beyond their years on the Forty Acres.
With a unified message from parents/families and the UT community, the message of personal safety responsibility will resonate with students. We encourage you to talk to your student about personal safety and point him or her to the many safety resources on campus.
We urge you to become familiar with the resources on the university's Campus Life, Safety & Mental Health page as well as those that you find below.
Emergency Communications
In the event of an emergency situation or campus closure, UT Austin has a variety of tools to communicate with the public. Emergency information is posted on the UT Austin home page as well as the university's Emergency website. The University of Texas Police Department (UTPD) also communicates emergency and safety information via their Facebook and Twitter pages. Follow UTPD on social media to stay informed.
We also encourage you to confirm with your student that he or she is signed up for the campus text alert system, a key communication tool used during emergencies. Only UT students, faculty and staff may sign up for this system; parents/families cannot receive text alerts as this would overload the system and cause delays in delivering crucial information to those that it most directly impacts.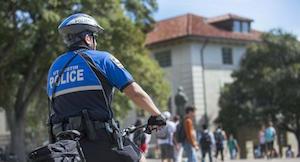 Safety Resources
Information is posted on the UT Austin Emergency Information website. We recommend bookmarking the page for your convenience.