A Longhorn Family in front of Gregory Gym at Family Orientation 2016.
As the parent/family of a current or prospective Longhorn, you play an important role in your student's success. Your student will turn to you for advice, reassurance and direction throughout the college journey and one of the best ways to prepare for those moments is to learn about all that is available to your student on the Forty Acres.
But, where should you start? As one of the biggest and best universities in the country, the University of Texas at Austin offers an incredible diversity of experiences, opportunities and resources for your student. There is a lot to know, and regardless of where your student is in his or her journey, we know you have questions. We have designed this website to be a starting place for you to find answers. The resources listed throughout this site are not exhaustive, but they are ones that parents most often seek.
If you don't find what you are looking for here, please know that the Texas Parents office is in place to help you help your student. With full-time staff members dedicated to helping parents and families, we can connect you with the resources that you need. If you don't know whom to call, call Texas Parents.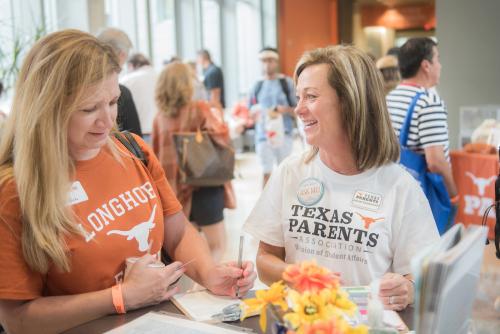 The Texas Parents Association
The university understands the importance of keeping parents/families informed and connected from enrollment through graduation and encourages all families to participate in the Texas Parents Association.
Sign up with Texas Parents TODAY!